Printexemplare bestellen

Kontakt für Fragen zur Bestellung von Publikationen:

Heidi Espei
Tel.: +49 30 39001-253
Fax: +49 30 39001-275
E-Mail: vertrieb@difu.de
Deutsches Institut für Urbanistik gGmbH
Vertrieb
Zimmerstraße 13-15
10969 Berlin
Transport Behaviour among Immigrants – An Equation with Many Unknowns
Birgit Kasper, Ulrike Reutter, Steffi Schubert
Transport Behaviour among Immigrants – An Equation with Many Unknowns
Immigrants - A Fifth of the Population
Conception Definition: Mobility and Immigration
From Foreigner to Immigrant
Choice of Residence and Everyday Mobility
Immigrants are not Less Mobile but Differently So
Many Mobility Patterns and Uninvestigated Motives
Permeability and Securing Mobility - Preventing Segregated Neighbourhoods from Disintegrating
A Fifth of the Population - No Longer a Marginal Group
Abstract:
In West German cities, people with an immigrant background have long ceased to be a marginal group. Their share in the total population is much higher than shown in official statistics and is likely to continue growing. Nevertheless, immigrants have so far been largely neglected in transport research. This article begins with an overview of differences in transport behaviour and infrastructure to the extent allowed by the scarce data. Plausible assessments suggest that differences between the mobility of people with an immigrant background and ethnic Germans are not solely to be attributed to socio-economic status. Apart from major gender-specific differences, the residential area has a big influence on transport behaviour, since it is the point of departure for everyday mobility. The transport infrastructure, accessibility, and permeability of neighbourhoods with a high proportion of foreign residents are key factors for mobility, societal inclusion, and integration.
Immigrants - A Fifth of the Population

(1)
In addition to the decline in the population – varying widely from region to region – the overall ageing of society and changing forms of social life, growing internationalisation is a major quantitative and qualitative consequence of demographic change. Almost 19 per cent of people living in Germany now have an immigrant background.
In view of the shift from labour migration to permanent immigration, which continues to take place in Germany, the inclusion of immigrants, their families, and coming generations in societal and political life is becoming more and more important. Internationalisation in Germany is geographically concentrated in Berlin and West German urban areas. Within cities, classical immigrant neighbourhoods in close proximity to often defunct sites of industrial work can be identified, which are currently experiencing radical structural change. Owing to the positive migration balance together with greater follow-up immigration of family members and higher birth rates than among the ethnic German population, the proportion of children and young people with an immigrant background, as well as older people, will increase strongly. From a spatial, societal, and economic point of view, immigrants will thus remain a determining factor in urban development (cf. Grüber-Töpfer et al. 2007).
The already highly differentiated urban society will further diversify, especially considering that the group of immigrants is very heterogeneous with regards to nationality, religion, migration experience, and length of residence in Germany, not to mention status: foreigners, ethnic Germans from eastern Europe, refugees, etc.
Development policy research and practice, programmes and measures have hitherto focused on integration, community life, language acquisition, political participation, schooling, and vocational integration, as well as cultural diversity. What has so far been neglected is the question of the impact of demographic change on everyday mobility, transport and traffic in cities and urban neighbourhoods.
This article discusses indications that people's everyday mobility is determined not only by the classical spatial, economic, and socio-demographic factors such as age, gender, household size, schooling, and employment, as well as socio-cultural and life-style factors, but also by national and thus cultural background. In particular, there are signs of gender-specific differences in the access to and use of modes of transport.
Conception Definition: Mobility and Immigration
The mobility of people with an immigrant background is a complex issue. The difficulties begin with the concepts of mobility and immigration. Research into immigration and integration generally uses the term mobility to mean choice of a place of residence, especially in connection with cross-border migration, and also, in rare cases, in the sense of social mobility. Mobility and transport research, in contrast, use the term migration to refer to choice of a place of residence or cross-border movement. The concepts migration and mobility are thus used at cross purposes in the two areas of research but address the same subject matter, namely choice of residence and cross-border movements.
However, the everyday mobility of immigrants plays no role in immigration and integration research. Although mobility is more than travelling from A to B, since it gives people the possibility to engage in activities (cf. Holz-Rau 2002) and hence to participate actively in society, the everyday mobility or physical change of location of people with an immigrant background has hitherto been ignored. Mobility and transport studies have taken no notice of the immigrant backgrounds of traffic participants. At best, their nationality is recorded in the bivariate form German/non-German.
From Foreigner to Immigrant
It is more than obvious that the simple distinction between German and non-German does not permit very powerful insights. Especially in the field of education, for example, international comparative educational achievement studies (2) have demonstrated that the concept of foreigner is inadequate in describing and dealing with the nature and dimensions of problems and tasks associated with immigration. For the traditional foreigner concept fails to cover many groups of people with an immigrant background.
However, there is no generally acceptable alternative. Surveys and studies explicitly concerned with population structure or migration are based on differing categorisations. People are grouped, for instance, by country of origin, immigrant background, religion, duration or legal status of residence.
Owing to the problems mentioned, however, a shift in perspective has also taken place in statistics. The legislative amendment that came into force on 1 January 2000 allowing children born in German to acquire German citizenship under the ius soli principle provided that one parent has had his or her legal habitual place of abode in Germany for eight years (Section 4 of the Nationality Act StAG) has contributed to the shift in statistical concepts from foreigner to immigrant, allowing the following aspects to be taken into better account: differentiation of immigrant constellations in terms of legal status (German versus non-German), as well as individual and family migration experience (first, second, or third generation).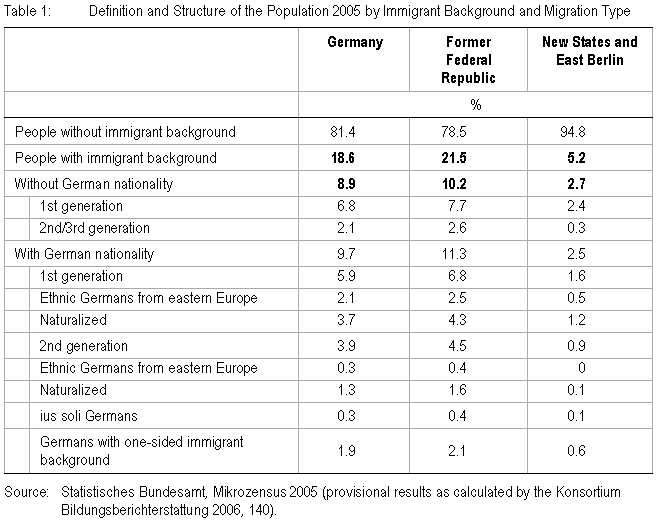 For this differentiation of immigrant constellations, the microcensus collected representative data for the first time in 2005 on nationality, place of birth in Germany or abroad, year of immigration, naturalization, the nationality, naturalization and place of birth of both parents and of children, adolescents and young adults living in one household with their parents, and similar information on grandparents.
This data reveals that, in addition to the 8.9 per cent foreign residents, a further 9.7 per cent of the German population, although German nationals, have an either direct or indirect immigrant background through the family. The trend is upward. In recent years, however, the proportion of foreigners in Germany has fallen slightly. The reasons are naturalizations, data adjustments in the central aliens register, emigration, and the ius soli principle in force since 2000. If data continues to be collected and interpreted only on the basis of the foreigner concept, systematic under-reporting will increase more and more. The shift in reporting method from the foreigner to the immigrant concept thus shows that immigrants have so far been systematically under-reported.
Choice of Residence and Everyday Mobility
The organisation of everyday mobility depends strongly on where people live and on the local infrastructure. The 6 th Family Report of the Federal Ministry for Family Affairs, Senior Citizens, Women and Youth (BMFSFJ 2000) points to a much higher proportion of foreigners in core cities and heavily built-up counties in agglomerations, which mostly have a very good transport infrastructure. It can therefore be assumed that this will cause differences in everyday mobility between Germans and foreigners (or people with an immigrant background).
Not only urban agglomerations but also West German states are favoured. It is unlikely that regional and settlement-structural differences will diminish in the future. Although more cities and neighbourhoods will probably have an above average proportion of foreign residents, a further increase in the already favoured areas is primarily to be expected.
At the local level, too, the population is unevenly distributed. In Frankfurt am Main, with an average foreign population of 25.9 per cent, 44.9 per cent of residents in the Gallus district are foreigners, whereas in Nieder-Erlenbach the figure is only 10.8 per cent (cf. Stadt Frankfurt 2005, 12f.).
The residential location offers or restricts access to everyday activities and their diversity, and is the point of departure for everyday mobility. So far, little is known about whether everyday immigrant mobility differs from that of people with a non-immigrant background or what mobility needs exist.
Immigrants are not Less Mobile but Differently So
A study on the "mobility of immigrants" has shown that this subject has so far been largely ignored in transport research (cf. Kasper/Schubert 2007). Practically no information is available on the transport behaviour of foreigners, nor any data on the transport behaviour of people with an immigrant background.
Neither the "Mobility in Cities – SrV" (3) survey, the old KONTIV (4) design, nor the Mobility Panel report nationality, which was included for the first time in the MiD 2002 (5) (KONTIV successor study). Another source of data is the Foreigner Survey (6) of the Forschungsgesellschaft MARPLAN, which addressed the subject of "transport" among others in 1993.
Statements about differences in transport behaviour between Germans and foreigners, between people with an immigrant background and from a non-immigrant background, or between different groups of immigrants are very poorly grounded; research is urgently needed. It is advisable for future surveys to report immigrant background, most usefully on the lines first applied in the 2005 microcensus.
In discussing the results derived from MiD 2002 data, figures for the nationalities mentioned are so small that the significance levels present uncertainties, and more differentiated calculations in subgroups are hardly possible or possible only with reservations. But since no better data are available, a secondary analysis was undertaken despite these reservations, which at least points towards differences, permitting the development of further research questions.
The Foreigner Survey of 1993, which was interpreted with regard to transport behaviour by Hautzinger et al (1996), and the MiD 2002, which was re-analysed in terms of the reported nationality subgroups, show that foreigners do not necessarily travel less than Germans, but they do so differently. Differences are also apparent between nationalities, and the gender variable often has an intensifying effect.

Regardless of nationality, more than 80 per cent of German and foreign respondents travelled on the effective date, and the average number of journeys per day was three. Differences in mobility rates were apparent only if gender is taken into consideration. Whereas on average German women and men made the same number of journeys, among foreign respondents, men made more journeys than women of the same nationality.
Figure 1: Number of Journeys by Nationality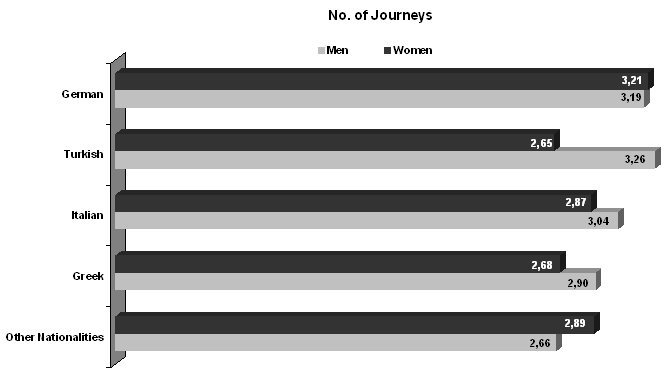 Source: MiD 2002, own calculations.
Figure 2: Female Car Availability by Nationality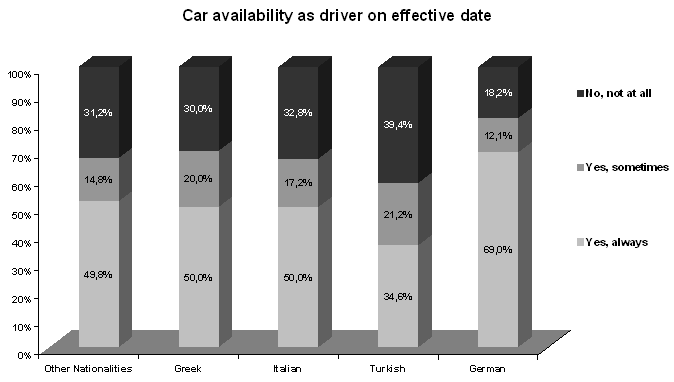 Source: MiD 2002, own calculations.
Foreigner households have a car less frequently than German households, although on average more people live in foreigner households. At the individual level, car-ownership depends strongly on gender. On average, far fewer foreign women own a car and a vehicle is more rarely available to them, and as far as driving licences are concerned, there are major differences in foreigner groups between men and women. The strong tendency among German women to catch up in driving licence holding is not (yet) evident to the same extent among foreign women.
The unequal access to a car affects modal choice. Whereas Germans use cars and bicycles far more frequently than immigrants, foreigners – again particularly women – use public transport and walk.
Figure 3: Male Car Availability by Nationality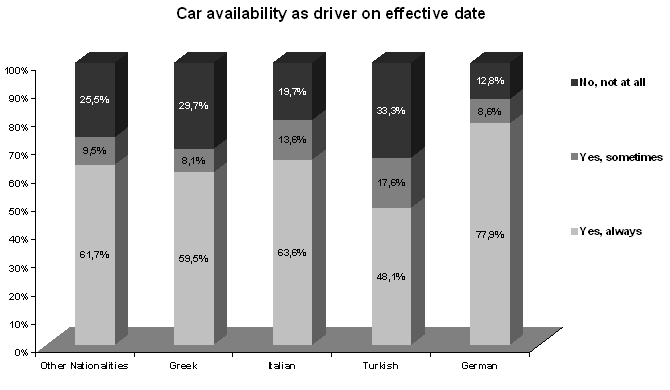 Source: MiD 2002, own calculations.
Figure 4: Public Transport Use by Germans and Foreigners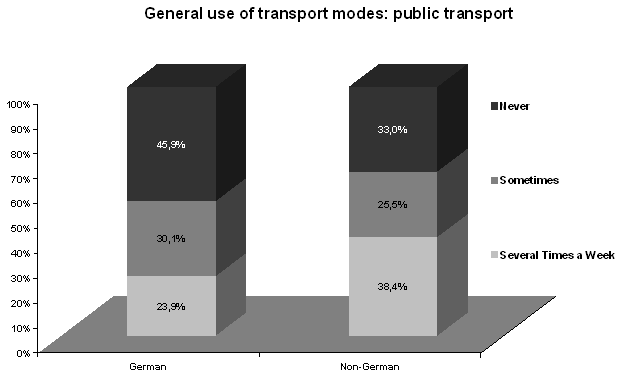 Source: MiD 2002, own calculations.
Hautzinger et al. found (1996) that foreigners who have a car at their disposal use it far more often than the German comparative group whether because it has higher status value or because the mobility needs of several people have to be satisfied with the one car.
The differences in the low accessibility and use of cars are also apparent in a local orientation among foreigners, especially women. The average German man travels more than three times as many kilometres per day than the average Italian woman.
Figure 5: Kilometres Travelled by Women and Men by Nationality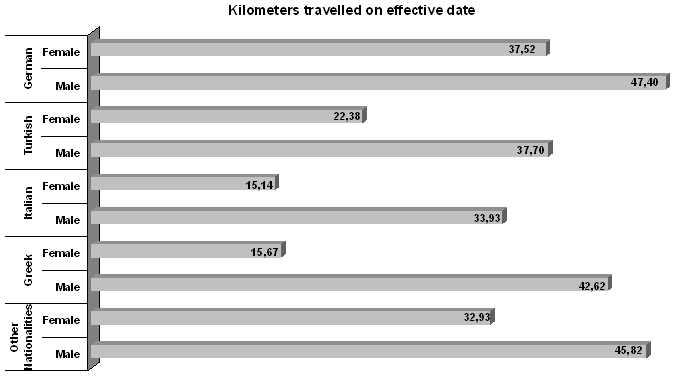 Source: MiD 2002, own calculations.
Many Mobility Patterns and Uninvestigated Motives
In their study, Hautzinger et al (1996) come to the conclusion that, on achieving equivalent socio-economic status in Germany, immigrants exhibit corresponding transport behaviour. But first of all the necessary framework conditions must be in place. Süssmuth notes that the lack of integration policy in recent decades has given rise to a serious problem, namely that "the disappearance of traditional jobs in industry was not followed by an active reskilling programme in general education and vocational training" (Süssmuth 2006, 114). This means that people with an immigrant background cannot be expected to attain the socio-economic status existing in Germany as a matter of course. These structural barriers, which make integration more difficult, come on top of the fact that even if individuals adapt their transport behaviour in the course of years or decades, new immigrants continually arriving in Germany will not yet have their socio-economic status and transport behaviour harmonised.
But even if comparable socio-economic status is achieved, it is doubtful whether the principle "the higher the income, the more is invested in mobility" can be simply transferred to people with an immigrant background. A large proportion of immigrants make transfer payments to their home countries, either to support family members who have remained behind or to build homes to retire to. Income alone is hence not a reliable indicator of the financial resources available for mobility. The question is what impact the lower consumption budget for mobility has on flexibility, accessibility, and, finally, societal participation.
As far as transport behaviour itself is concerned, foreigners and ethnic Germans make a similar number of journeys per day. This means that the former do not necessarily travel less, but differences in the choice of mode and the distances travelled clearly indicate that they travel differently. On the whole, however, the differences identified cannot be sufficiently explained on the basis of the material available. Thus socio-economic status, which has a great deal to do with the availability of a car, does not suffice to explain the major differences between genders. And although the more local pattern of movement has a great deal to do with car availability, it is not clear whether this is a sign of disadvantagement, pointing to the reduced mobility opportunities of foreign women in particular or whether the choice of residence and good neighbourhood infrastructure also play an important role.
With regard to all differences, it is interesting that Turks, and especially Turkish women score highest and lowest respectively. This peculiarity is confirmed by a Dutch study (cf. Harms 2006 and Harms in this issue), and studies of road safety (cf. Funk et al. 2002), which have identified Turkish children and adolescents as particularly at risk from road accidents. Explanations are mostly cultural in nature and as yet no more than speculation.
What remains to be explained are the existing differences. Are economic differences alone reflected in mobility opportunities and transport behaviour? Are they the outcome of a deliberate choice of residence in which the criterion of proximity is given greater priority? Or are, for instance, cultural or religious reasons responsible for certain mobility patterns?
It is likely that social structure influences mobility patterns and transport behaviour not only among Germans but also among people with an immigrant background. However, it is far from clear what influence is exerted on transport behaviour by the region of origin, cultural background, residential status and length of residence in Germany, level of education, and socio-economic status, phase in life, and family configuration, as well as the housing constellation and place of residence. Differentiated information and sufficient uniform data are lacking. In addition to pure transport behaviour surveys, qualitative research on motives and causes is urgently needed.
Permeability and Securing Mobility - Preventing Segregated Neighbourhoods from Disintegrating
The debate on the integration of immigrants has so far concentrated mainly on educational and labour-market opportunities. The assimilation model in the integration discourse, still widespread in Germany (cf. BMFSFJ 2000, S. 10), posits an unchanging lead culture to which immigrants are expected to adapt. In practical urban policy the guiding principle of "social mix" has so far been pursued, which assumes that a "mix in the composition of the neighbourhood" counteracts ethnic segregation and accordingly fosters integration. However, there is no manageable tool for avoiding segregation, and the realisation is gradually gaining ground that segregation in itself is not a bad thing (cf. Verbundpartner "Zuwanderer in der Stadt" 2005). The debate has broadened to include voluntary versus forced segregation in the residential areas preferred by immigrants.
The segregation of people with an immigrant background need not necessarily point to lacking integration. In every larger city there is at least one district that functions as port of entry, i.e., an area to which immigrants move because other immigrants already live there, often from their own country or region of origin, or even from their own family. Moreover, cheap housing, access to public transport, and easy integration into social networks are of essential importance for low-income households. Trends towards ethnic (self-)segregation and poor socio-economic resources thus constitute a complex web of reasons why people with an immigrant background often live in disadvantaged parts of town. This gives rise to problems if:
segregation is forced, that is, if certain population groups cannot obtain housing in any other neighbourhood because of their ethnic origin or socio-economic resources;
if neighbourhoods have functional deficiencies (e.g., no or bad public transport, rundown housing stock, unhealthy noise and air pollution, high traffic risks for children, a lack of child-care facilities, etc.) that have a negative impact on residents' opportunities for societal inclusion.
The preconditions for social inclusion include not only organising everyday life and family and reproductive work but also ensuring everyday mobility. Everyday mobility in the sense of opportunity for activities or access to goals depends on the neighbourhood infrastructure. If people with an immigrant background are to be mobile every day and to have the opportunity to integrate (education, work, social contacts), then they have to rely on public transport. Neighbourhoods with functional deficiencies in the transport infrastructure are therefore at a strong disadvantage.
Apart from everyday mobility, permeability is an important indicator in relation to residential mobility. Beck-Gernsheim (2004) points out that the identification of areas as deprived neighbourhoods and places where integration has failed is often a statistical artefact. The "transit quality" is not measured. For example: the proportion of people who return to their home countries after being successful in business, who integrate successfully and move to another part of town, and/or acquire German citizenship.
In the concept of voluntary segregation in neighbourhoods without any disadvantaging impact of physical and infrastructural conditions for residents, permeability in both everyday and residential mobility must be a policy paradigm facilitating exchanges between the neighbourhood and the rest of a city and ensuring access for non-residents.
Since more "strangers" of whatever cultural and linguistic provenance are likely to move into urban areas, segregated neighbourhoods have to be accepted as a permanent institution in German cities (cf. Häußermann/Siebel 2001, 77). But suitable conditions and a political effort are needed to ensure permeability in everyday life through urban development and transport structures (e.g., simply access to and use of public transport), and permeability in the sense of residential mobility, so that no-one has to live permanently and without any alternative in the neighbourhoods concerned.
A Fifth of the Population - No Longer a Marginal Group
Despite the lack of data and empirical studies on the subject of immigrant transport behaviour, it can be assumed that differences in mobility behaviour influence access to and participation in the life of society particularly strongly in deprived urban neighbourhoods with a high proportion of residents from an immigrant background. There is also some plausible suggestion of specific origin-related mobility cultures and styles, whose relation to socio-economic status in the countries of origin need to be further investigated.
Without in-depth research, it is not possible to establish whether immigrant mobility and transport behaviour offer opportunities for sustainable mobility based more strongly on neighbourhood-related local mobility using eco-link modes of transport, especially public transport, or whether people with an immigrant background suffer particularly from social and societal exclusion in these neighbourhoods owing to poorer access to service and activity opportunities. Furthermore, it must be investigated whether so-called catch-up modernisation has generated mobility styles integrated into the majority society among second and third-generation immigrants in Germany – so that immigrant origins no longer play a role in questions of mobility.
However, it is already apparent that, owing to continuing immigration, migrants are and will remain a diverse but important target group for urban and transport development. They must be ensured access to and use of the urban infrastructure. Targeted concepts and communication approaches are needed. This is particularly the case for transport undertakings, for which people with an immigrant background are a major category of customer, not merely a marginal group.
Notes
(1) We use the terms immigrant and persons/people with an immigrant background as synonyms. They denote people who were born abroad and who settled in the Federal Republic since 1950, as well as their descendents. The concept includes both naturalised people in this category and those who have foreign nationality. The term foreigner or non-German is used only with explicit reference to people who are not German nationals. (back)
(2) PISA = Programme for International Student Assessment of the OECD and PIRLS = Progress in International Reading Literacy Study of the Association for the Evaluation of Educational Achievement (IEA). (back)
(3) System of representative transport survey. (back)
(4) Continuous Survey of Transport Behaviour. (back)
(5) Mobility in Germany. (back)
(6) The Forschungsgesellschaft MARPLAN conducts an annual survey in the form of a multi-subject survey targeting foreigners. Questions of transport behaviour have, however, been so far been addressed only in the 1993 survey. (back)
References
Arastirmalar, Türkiye/Vakfi, Merkezi (2004): Nutzung und Akzeptanz des öffentlichen Nahverkehrs sowie die Problematik des Vandalismus. Untersuchung der Einstellungen türkischstämmiger Migranten in Essen für die Essener Verkehrsbetriebe AG, Essen. (back)
Beauftragte der Bundesregierung für Migration, Flüchtlinge und Integration (Integrationsbeauftragte) (ed.) in Zusammenarbeit mit dem efms – Europäisches Forum für Migrationsstudien (2005): Daten – Fakten – Trends. Strukturdaten der ausländischen Bevölkerung, Bamberg. (back)
Beck-Gernsheim, Elisabeth (2004): Wir und die Anderen. Vom Blick der Deutschen auf Migranten und Minderheiten, Frankfurt am Main. (back)
Bundesministerium für Familie, Senioren, Frauen und Jugend (BMFSFJ) (2000): Sechster Familienbericht. Familien ausländischer Herkunft in Deutschland. Leistungen – Belastungen – Herausforderungen, Berlin. (back)
Funk, Walter/Wiedemann, Anita/Rehm, Birgit (2002): Verkehrssicherheit von ausländischen Arbeitnehmern und ihren Familien (Berichte der Bundesanstalt für Straßenwesen/BAST: Mensch und Sicherheit Heft M 136), Bergisch-Gladbach. (back)
Grüber-Töpfer, Wolfram/Kamp-Murböck, Marion/Mielke, Bernd (2007): Demographische Entwicklung in NRW, in: Institut für Landes- und Stadtentwicklungsforschung und Bauwesen des Landes Nordrhein-Westfalen ILS NRW (ed.): Demographischer Wandel in NRW, 5–30 (forthcoming). (back)
Häußermann, Hartmut/Siebel, Walter (2001): Integration und Segregation. Überlegungen zu einer alten Debatte, in: Deutsche Zeitschrift für Kommunalwissenschaften, Heft 1, 68–79. (back)
Harms, Lucas (2006): Anders onderweg. De mobiliteit van allochtonen en autochtonen vergeleken. Een verkennend onderzoek in opdracht van het ministerie van Verkeer en Waterstraat, Den Haag. (back)
Hautzinger, Heinz/Tassaux-Becker, Brigitte/Pfeiffer, Manfred (1996): Mobilität der ausländischen Bevölkerung. Verkehrsmobilität in Deutschland zu Beginn der 90er Jahre, Band 3 (Berichte der Bundesanstalt für Straßenwesen/BAST: Mensch und Sicherheit Heft M 59), Bergisch- Gladbach. (back)
Holz-Rau, Christian (2002): Integrierte Verkehrsplanung – eine lange Geschichte, in: Planungsrundschau 5, URL: www.planungsrundschau.de. (back)
Kasper, Birgit/Schubert, Steffi (2007): Mobilität sozialer Gruppen – Stand des Wissens zu Mobilitäts- und Verkehrsverhalten von Menschen mit Migrationshintergrund. Studie im Auftrag des Instituts für Landes- und Stadtentwicklungsforschung und Bauwesen NRW, Frankfurt am Main/Offenbach (unpublished). (back)
Konsortium Bildungsberichterstattung (ed.) (2006): Bildung in Deutschland. Ein indikatorengestützter Bericht mit einer Analyse zu Bildung und Migration. Im Auftrag der Ständigen Konferenz der Kultusminister der Länder in der Bundesrepublik Deutschland und des Bundesministeriums für Bildung und Forschung, Bielefeld. (back)
Süssmuth, Rita (2006): Migration und Integration: Testfall für unsere Gesellschaft, München. (back)
Stadt Frankfurt am Main (2005): Statistisches Jahrbuch Frankfurt am Main 2005, Frankfurt am Main. (back)
Verbundpartner "Zuwanderer in der Stadt" (2005): Zuwanderer in der Stadt. Empfehlungen zur stadträumlichen Integrationspolitik, Darmstadt. (back)
Zeman, Peter (2005): Ältere Migranten in Deutschland. Befunde zur soziodemographischen, sozioökonomischen und psychosozialen Lagen sowie zielgruppenbezogene Fragen der Politik- und Praxisfeldentwicklung. Expertise im Auftrag des Bundesamtes für Flüchtlinge und Migration, Berlin. (back)