Printexemplare bestellen

Kontakt für Fragen zur Bestellung von Publikationen:

Heidi Espei
Tel.: +49 30 39001-253
Fax: +49 30 39001-275
E-Mail: vertrieb@difu.de
Deutsches Institut für Urbanistik gGmbH
Vertrieb
Zimmerstraße 13-15
10969 Berlin
German Journal of Urban Studies Vol. 47 (2008), No. 1 - Editorial: Living in the Inner City - Vision and Reality
Klaus J. Beckmann, Gregor Jekel, Franciska Frölich von Bodelschwingh
Editorial: Living in the Inner City - Vision and Reality
In recent decades, settlement development in Germany has been determined by suburbanisation, particularly residential suburbanisation. The family was long regarded as the main driving force in this process. The common view was that families moved out into single-family homes in a verdant setting on the edge of town or in more peripheral suburban areas as soon as occupational prospects were settled and offspring was on the way. Despite the fact that far fewer people actually live in their own home in the urban environs that is usually claimed, the consequences of this development were nonetheless serious. They included the establishment of more and more residential areas on the outskirts of the city or in surrounding areas, urban sprawl at the cost of the countryside, and land take for new roads, as well as partial social segregation by income, age, and ethnic origin.
Changing living and housing patterns, i.e., changing conditions at the societal, economic, and regulatory levels, as well as their impact on residential preferences, social structure, urban development, and business have for a considerable time now been signalling a new trend over and above suburbanisation towards rediscovering the city, and particularly the inner city, as a place to live. In parallel, urban planning and development policy are endeavouring to upgrade housing and the residential environment in cities, for instance through rehabilitation and redevelopment, the Socially Integrative City programme, and, most recently, national urban development policy.
In recent years, the debate has raised new questions about housing, a focal area in essential service provision by local government. Views on what is to be understood by local housing policy have changed. Apart from providing accommodation for socially deprived households, which in many towns and cities is meanwhile seen as less urgent a problem owing to easing housing markets, local authorities are increasingly concerned with how to provide suitable urban housing in a society where lifestyles are diversifying, with how as many people as possible can be enabled to "age in place," and with how the growing demand among families for housing in the city centre can be met. Attractive central residential locations are becoming a "soft" locational factor in city marketing and identity policy. At a time when public resources are tight, the stabilisation of population figures and the provision of high-quality housing are increasingly considered important contributions to securing the fiscal basis of local government autonomy.
These developments are unfolding against the backdrop of a discussion on whether there is indeed a trend "back to town." A Difu study on living in the inner city addresses this issue.(1) It looked at two central neighbourhoods, one in Leipzig, the other in Munich, that are extremely popular residential areas, most of whose inhabitants have explicitly opted to live in the inner city. At least in Leipzig, these convinced inner-city residents include a striking number of families, and in Munich people from a wide variety of milieus with broad ranging lifestyles. Common to all of them was that they could not imagine living outside or on the outskirts of the city. Asked where they would prefer to live if they had to move, most wanted to stay in the neighbourhood or at least in another central location. However cautiously the results of the study are to be judged, given the fact that only two neighbourhoods in only two cities of particular character and attractiveness were under investigation, the empirical findings nevertheless point to a growing interest in living in the inner city.
Whereas players on the housing market themselves mostly confirm this growing interest in centrally located housing, there are repeated indications that the trend cannot be empirically confirmed. A follow-up study – on which Gregor Jekel and Franciska Frölich von Bodelschwingh presents key findings and conclusions in the first contribution to this issue – tackled the question whether the results of the Difu study can be generalised to larger-scale urban situations and urban places with differing preconditions (city/town, growing/shrinking city, etc.), and what this trend means for urban policy. In comparison with the first, the second study chose less to collect additional primary statistical data than to check findings by means of expert interview. Interviews were conducted with actors from politics and administration, the housing industry, investors and developers, estate agents, tenants' protection associations, and chambers of industry and commerce. It transpired that the demand for centrally located housing is greater than the supply – and that existing stock does not meet the requirements of major demand groups. Families, who need sufficiently large and inexpensive housing, often fail to find what they require in central locations because they have to compete for these (rare) dwellings with smaller, better-off households. For older inner-city residents, the problem is not so much finding adequate living space as adapting existing dwellings to the demands of an aging society. Heterogenization, individualisation, and the growing diversity of lifestyles has also led to greater differentiation in the demand for housing, to which the market has so far failed to react. The public sector needs to respond by encouraging a broader housing supply, and thus also regulating diversity in supply structures. Particular attention should be paid to fostering new forms of housing and living, especially in new build dwellings, as many cities already do, but which should be intensified.
Growth and differentiation in the demand for inner-city housing is due principally to demographic change: ageing, heterogenization, and individualisation. Walter Siebel (Carl von Ossietzky University Oldenburg) suggests that changes in the labour market, in ways of life, the individualisation of time structures, and the abolition of housing subsidies has lessened the attractiveness of suburbia as opposed to the city, and that the urban core has been regaining at least relative importance vis-à-vis the suburbs as a place to live. For shrinking regions this means that vacancies may occur in single-family housing areas in structurally weak regions, too. In view of the growing importance of homeownership as an element in private, government subsidised provision for old age, the consequences of this development poses a future challenge to society whose progression needs to be carefully watched.
Whether the revived attractiveness of living in the inner city can also be attributed to changing housing preferences among certain lifestyle groups is the subject of the article on "Lifestyles in the Inner City – Lifestyles on the Urban Fringe: Choosing Where to Live in the Urban Region" by Joachim Scheiner (University of Dortmund). On the basis of a standardised household survey carried out in the context of the StadtLeben (UrbanLife) project in selected residential areas of Cologne and its environs, the author discusses the relevance of lifestyles for residential mobility and residential location behaviour among the population of inner-city and outlying residential areas. Overall, the dominant factors explaining choice of location are variables such as age, household type, gender, and school education. An important role is also played by subjective locational preferences and access to transport. In certain types of inner-city neighbourhood, lifestyle appears to be important, but overall it tends to play a subordinate, albeit significant role. Passing the articles of Siebel and Scheiner in review, it is not so much the diversity of lifestyles as a combination of factors that appears to lead to the differentiation of the demands made on housing. These factors include not only lifestyles but also new and still changing gender roles, the life situation, subjective locational preferences, and the destandardisation of life careers, which, in combination with objective situational characteristics like transport connections and a wide range of needs to do with the home but which go beyond the actual provision of housing, also lead to the destandardisation of housing demand. But the developments described also engender growing conflict potential, especially in heavily populated inner-city areas. Among other things, they can cause social tensions and conflicts with industrial, commercial, and leisure uses.
The findings invite conclusions on the influence exerted by planning policy on residential location choices through targeted locational information, which was the matter dealt with by the REFINA research project "Integrated Residential Location Consulting." These findings include recognition that in medium-sized cities and towns there is little need for information on the demand side, and that the possibilities for influencing the choice of residential location is accordingly limited.
The Difu study shows that, if the growing popularity of living in the inner city is not everywhere reflected in empirical findings such as growing population figures or positive migration balances, this has to do with the supply side: either there is not sufficient housing available or it does not satisfy the structural and quality requirements of the potential user groups. As we have seen, new user groups make demands on housing that are not met by the usual housing suppliers. For this reason, the second half of this issue looks at new forms of housing and discusses the question of what role they can play in the development of the inner city in supplementing established housing providers.
Figure 1: The pluralisation of ways of life can engender conflicts, especially in inner cities with their high use density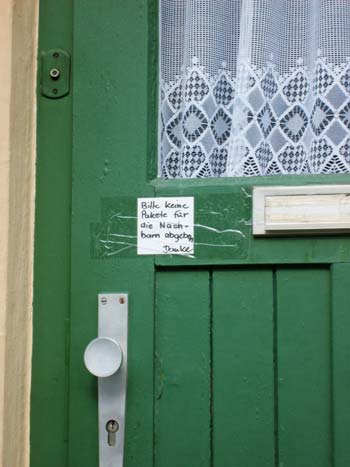 Photo: Gregor Jekel.
Among the forces driving the trend towards living in the inner city, Siebel sees not only demographic change but also changes in gender roles. He sees one way to solve the dilemma that has arisen from the dissolution of the traditional division of labour between men and women, the gender distribution of gainful employment and career on the one hand and home-making on the other in the modern service city as a form of societalization of the private household. Taking as his point of departure the challenges that ageing and individualisation pose for the welfare state, Albrecht Göschel (Forum for Collaborative Housing – FGW) shows that between the poles of "private" and "public," which are considered constitutive for modern urbanity, transitional forms have increasingly developed in the course of modernisation in a "new modernity" as reflected, for instance, in "new forms of living." What role can these collaborative housing projects play as an alternative and supplement to government and family concepts of senior citizen housing? What motivates such projects and what expectations do they arouse? Even if no convincing empirical studies on collaborative housing projects and the conditions for their success or prospects of success are available to date, this article offers an assessment. It concludes that lasting, effective cooperation between everyone involved in a collaborative housing project will develop best if project groups see themselves as associations of individuals impelled by the interests of each and every member, and if all the individuals involved manage to articulate the legitimacy of these interests as clearly as possible. In order to stress this aspect, Göschel refers not to collaborative (gemeinschaftlich) but to cooperative (kooperativ) forms of housing.
Housing cooperatives also make an important contribution to broadening the range of urban housing. Moreover, together with public housing companies, they are a pillar in the provision of low-income housing, contributing in many ways with activities that go far beyond housing provision to urban development and the social stabilisation of neighbourhoods. The potential offered by housing cooperatives for social urban development in reconciling the public interest and private interests is addressed by Stephan Beetz (Institute of Cooperative Studies at the Humboldt University of Berlin – IfG).). The measures undertaken by the federal government to activate the potential of cooperatives are currently the subject of a research project that is been conducted jointly by the German Institute of Urban Affairs and the IfG on behalf of the Federal Office for Building and Spatial Planning (BBR).
Residents from an immigrant background constitute a user group for inner-city housing that continues to grow in importance. In particular, this development requires strategies for dealing with the housing stock of large housing companies. For this reason control possibilities and requirements need to be investigated. Thomas Dilger and Hans Fürst (Unternehmensgruppe Nassauische Heimstätte/Wohnstadt GmbH) discuss the problems and options of a large housing company in handling a socially and ethnically diverse clientele. The two authors come to the conclusion, remarkable from the perspective of a housing company, that the diversity of possible housing forms marks off the inner city as a residential location clearly from other urban areas, and should be fostered – particularly with regard to forms of tenancy, which range from rental accommodation, to membership in a housing cooperative and owner occupation.
Figure 2: New housing must speak an urban language. Monotonous row house development has no place.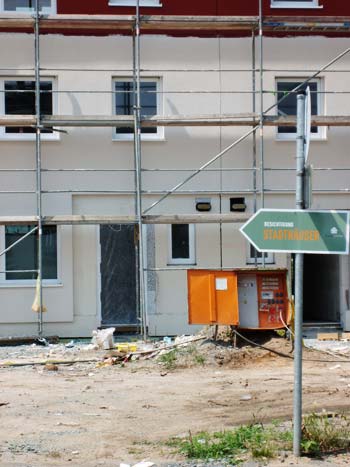 Photo: Gregor Jekel.
With the demand for structural and urban development strategies that take account of increasingly diverse lifestyles and offer them the scope they need, the authors from their practical perspective in the housing industry counter Siebel's scepticism about whether an appropriately differentiated housing supply is capable of responding to the diversification of living arrangements and ways of life. The inadaptability of the inner-city housing stock built after the Second World War serves as an argument for both sides: for Siebel as a warning against orienting the housing stock too much on any current models of living arrangements and the demands they make on physical structures, and as a pointer to the growing need to take action on the extremely uniform housing stock from this period, which no longer meets present-day housing requirements.
As far as this last point is concerned, housing policy will indeed have to envisage diversifying the housing supply in cities. This includes taking consistent account of such differentiation in new development and stock modernisation. Most cities can proceed on the basis of attractive residential locations in their inner cities. Local government measures to improve the residential environment and housing stock have played a decisive role in this regard. Urbanity, short distances, dense social networks, and infrastructural services are among the most important locational factors contributing to the attractiveness of the inner city. Cities must pay particular attention to this strength and enhance these advantages without weakening residential amenity in the inner city. Urban density is particularly important. New housing must therefore also speak an urban language.
It has been shown that interest in living in the inner city is particularly great among people who already live there. The primary concern is therefore to enable inner-city dwellers whose housing needs have changed to continue living in their residential environment and only in second place to gain new residents.
Notes
(1) Hasso Brühl, Claus-Peter Echter, Franciska Frölich von Bodelschwingh and Gregor Jekel: Wohnen in der Innenstadt – eine Renaissance? Difu-Beiträge zur Stadtforschung Bd. 41, Berlin 2005.