Printexemplare bestellen

Kontakt für Fragen zur Bestellung von Publikationen:

Heidi Espei
Tel.: +49 30 39001-253
Fax: +49 30 39001-275
E-Mail: vertrieb@difu.de
Deutsches Institut für Urbanistik gGmbH
Vertrieb
Zimmerstraße 13-15
10969 Berlin
Location
Difu headquarters are located in Berlin and the institute has a second office in Cologne (Environment Division):
Berlin
German Institute of Urban Affairs
Zimmerstraße 15
10969 Berlin
Tel: +49 30 39001-0
Tel: +49 30 39001-100
E-mail: difu@difu.de
How to get to Difu
To find the best way to reach us visit www.bvg.de and enter "Kochstrasse/Checkpoint Charlie" or "Stadtmitte" as your destination. Using public transport it takes 15 minutes to reach Difu from Berlin Hauptbahnhof (central station), half an hour from Tegel Airport and 45 minutes from Schönefeld Airport. The institute is situated in an area with limited parking availability so we recommend using public transport to reach us.
Transport connections
U-Bahn station: Kochstr. or Stadtmitte
S-Bahn station: Anhalter Bahnhof or Potsdamer Platz
Buses: M48, M29, M41, 248, 347, N6, N42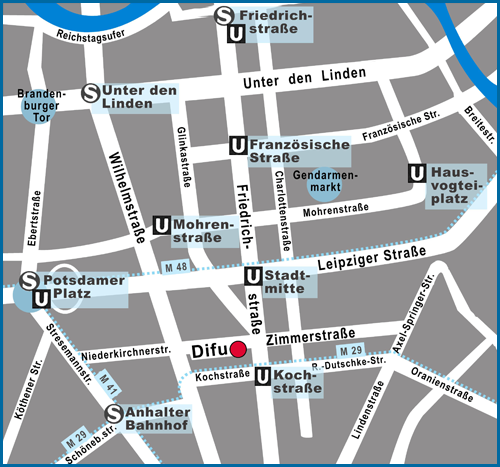 Cologne
German Institute of Urban Affairs
Environment Division
Auf dem Hunnenrücken 3
50668 Cologne
Tel: +44 49-221 340308-0
Tel: +44 49-221 340308-28
E-mail: umwelt@difu.de